Purchase or Refinance Your Home with Confidence.
If you are a veteran or if you're in a military family, VA loans are an increasingly attractive home financing option for you and many veterans across the nation. Designed to offer long-term financing to American veterans, VA mortgage loans are issued by federally qualified lenders and are guaranteed by the U.S. Veterans Administration. The VA determines eligibility and issues a certificate to qualifying applicants to submit to their mortgage lender of choice. It is generally easier to qualify for a VA loan than conventional loans.
Here's How VA Loans Work:
100% financing without private mortgage insurance or 20% second mortgage.
A VA funding fee of 0 to 3.3% (which may be financed) of the loan amount is paid to the VA.
When purchasing a home, veterans may borrow up to 100% of the sales price or reasonable value of the home, whichever is less.
When refinancing a home, veterans may borrow up to 90% of reasonable value to refinance where state law allows.
Cash out on VA is 95% of the appraised value.
VA funding fee is 0-2%.
Many military veterans choose to take out a VA loan for many reasons. Here are just a few advantages of the VA home loan program:
No down payment: Most FHA loans require you to pay a 3.5% minimum down payment. In other words, if you purchase a house for $175,000 then you'll have to pay a down payment of $6,125. In contrast, VA loans don't require you to pay a down payment.
No prepayment penalty: If you can suddenly pay off your VA loan early, you won't get hit with prepayment penalties that other loans have.
No private mortgage insurance (PMI): If you are a conventional buyer who can't put down at least 20% of the loan, you have to get PMI. There is no PMI on a VA loan.
Along with the many advantages of VA loans come a few drawbacks:
Primary residences only: A VA loan can only be used for a primary residence and not for an investment property or a second vacation home.
Not everyone is on board: Unfortunately, not all home sellers will receive offers from people who have VA loans.
Need more information about VA loans?
Feel free to get in touch with us today. We can help you apply for a VA loan with a VA-qualified lender, and we can assist you with discovering affordable mortgage rates. We serve residents of Orchard Park, NY; East Aurora, NY; North Tonawanda, NY; Williamsville, NY; Hamburg, NY; Buffalo, NY; Amherst, NY; New York state and the entire state of Florida. Call Nickel City Funding, Inc today for assistance!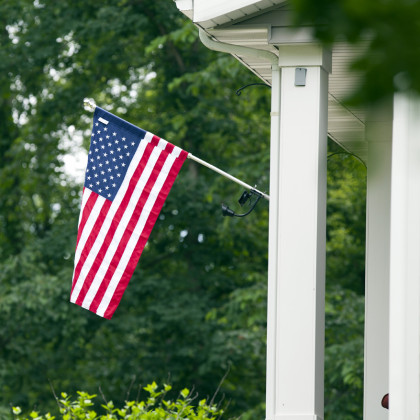 "*" indicates required fields
Registered Licensed Mortgage Broker-NY State dept. of financial services. All loans arranged by 3rd party lenders.
Nickel City Funding, Inc is a licensed mortgage broker by the Florida Office of Financial regulation NMLS #1586.